Virtual Baby Bottle Blessings
THAT IS A WRAP!
THANKS TO ALL WHO PARTICIPATED.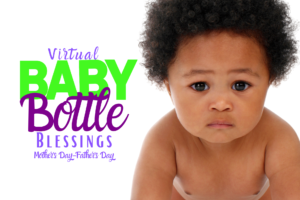 Dear Champions for Life,
The Baby Bottle Blessings Campaign to support Cornerstone ended this past Sunday, June 21st! If you are a church or individual that participated and still has money for the campaign, please be sure to send it to us no later than the end of the month. Thanks to all who participated in this year's campaign! An update will be posted by the end of this month, letting you know how the campaign ended, so stay tuned! 
Director of Communication and Donor Relations
Cornerstone Pregnancy Services